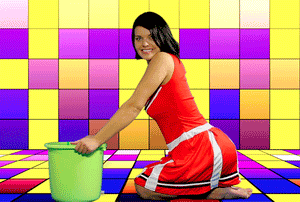 Cheerleader Challenge 2 "Lucy"
Lucy's back and ready to take the Cheerleader Challenge! But when she fails to answer the Super Easy Toss Up Question, she's sent to a very messy game of the Gunk Dunk. Tasked with retrieving the prize pieces at the bottom of the bucket, watch this cheerleader get all green and gunky as she tries futilely to find the prize. And the mess doesn't stop there because a whole barrage of pies awaits this peppy princess when she finally comes up for air!
Total run time is 38 minutes. Includes one edited episode plus bonus footage and outtakes (wide angle). Filmed in gorgeous 1080 HD.