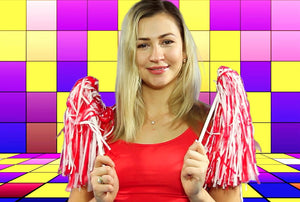 Cheerleader Challenge 1 "Tracy"
It's Cheerleader Challenge, the show where the best and brightest cheerleaders compete for the chance to prove their skills! 
Hailing from Casper, Wyoming, today's contestant is super cheery Tracy. But when she fails to answer the super easy toss up question, she has to pay a visit to The Slop Drop! Needless to say, Tracy's outfit gets a little bit messy as she searches desperately for the hidden flag. Who knew The Slop Drop would be overflowing with so much colorful gunge?
Total run time is 41 minutes. Includes one edited episode plus bonus footage. Filmed in gorgeous 1080 HD.