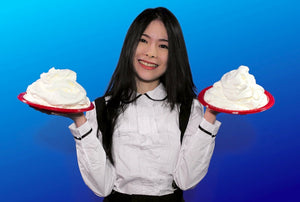 Fun With Pies "Nara"
Nara's back for more mess, and it just gets better as this adorable schoolgirl has fun with some extra creamy frosting pies! Watch as she trepidatiously applies the first pie to her face, squeaking with nervousness, then with some help from the producer to get them to really stick. Once she becomes a full glob of heavy frosting, that's when the chunky batter slime- green and chocolate- starts to fall! 
Total run time is 41 minutes. Includes medium and wide angle footage. Filmed in gorgeous 1080 HD.