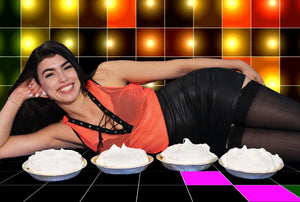 McSweetie's Dessert Club "Amber"
Welcome to McSweetie's, the newest trend in nightlife entertainment! Watch as the company spokesperson, Amber, demonstrates what you can expect at this fancy, new dessert club. If you want a place where the bass is always thumping and the pies are always flying, then come on down to McSweetie's for a messy good time!
Total run time is 31 minutes. Includes medium and wide camera angles. All footage filmed in gorgeous 1080 HD.