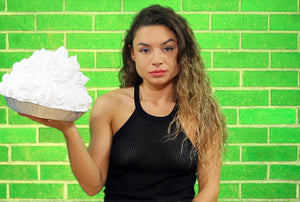 Pie A Phi "Jess"
It's Campus TV's favorite show, Pie a Phi, where the pretty girls of Alpha Phi raise money for charity by taking pies to the face!
This week's victim is Jess, and she is quite the reluctant participant. When she dons a pair of goggles and smock for the first pie, Jess only provokes the ire of the crowd, insuring herself an even messier fate! She takes 13 sloppy pies to the face followed by an especially humiliating blue slime topping. It's amazing how much a whiny sorority girl can raise for charity!
Total run time is 41 minutes. Includes bonus wide angle footage and outtakes. All footage filmed in gorgeous 1080 HD.