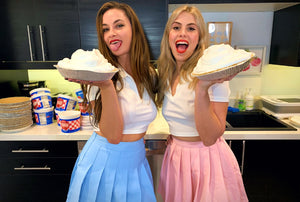 Pie Fight Girls! "Caitlyn & Jules"
Hold on to your hats, because Caitlyn & Jules are back for the ultimate, tit-for-tat pie fight!
Caitlyn is in the kitchen, preparing a large batch of pies for her dinner party when her boyfriend's ex-girlfriend, Jules, unexpectedly drops in. Rattled by Jules's noxious presence, Caitlyn requests she leave. But with so many gooey pies laying around, how could this disagreement not spill over to a full-fledged pie fight? Watch Caitlyn and Jules battle it out in a tit-for-tat dessert royale, plastering each other repeatedly with gooey pie after gooey pie! They may eventually draw up a truce in the end, but that doesn't prevent the secret special topping from being dumped upon these girls' pretty heads!
Total run time is 26 minutes. Includes one edited scene and outtakes. Footage filmed in gorgeous 1080 HD.