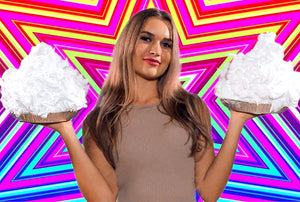 Pie & Slime Girls 1 "Anastasia"
Introducing Pie & Slime Girls, a new video format where the girl next door gets the pieing and sliming of her life! 
Meet Anastasia, a 19-year-old Russian model who wanted to do a "fun" shoot for a change. Well, she came to the right place! Watch as Anastasia takes 17 messy pies to the face gets slimed 3 times, bookended by pre- and post-shoot interview footage. You'll love Anastasia's upbeat and authentic attitude throughout the entire messy ordeal!
Download includes one edited scene of wide, medium, and close up angles, complete with music, FX and pop-up commentary. Additional bonus footage is also included.
Total run time is 46 min and filmed in gorgeous 1080 HD.