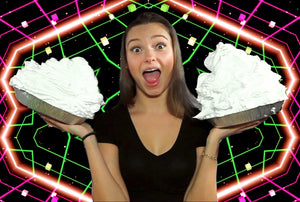 Pie & Slime Girls 2 "Katie"
Say hello to Katie, the latest NYC model to see what it's like to do a wild and whacky messy shoot! This scene includes a pre-shoot interview of the soon-to-be messy victim, followed by multiple rounds of big creamy pies (white, chocolate filled and colored) and three chunky green & yellow slimings. It's quite the messy onslaught, and by the end, Katie is left completely covered in slop and glop! 
Total run time is 38 minutes. Includes medium and wide angles plus bonus footage with outtakes. All footage filmed in gorgeous 1080 HD.