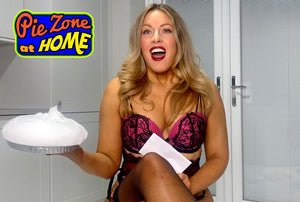 PieZone At Home "Bri"
From across the Atlantic comes a very special PieZone At Home mystery contestant...it's everyone's favorite Instagram WAM model, Bri!!! 
For those who don't know her, Bri is a rising star from the UK who luv, luv, luvs getting messy 😽💗 So much so, that we decided to play a little trick on her with today's game 😏 Instead of the regularly scheduled questions, Bri is dealt a series of softballs ("What's 2+2?"), which only impedes Bri's eventual mess-capades. Finally, she says screw it, and gives herself the full pieing of her heart's desire. White, blue, pink and yellow pies—ten in total for this gorgeous blonde followed by the green slime topping—and Bri's messy transformation is complete 👏 Oh and she also happens to lose her top in the process 🥵
Total run time is 30 minutes. Includes two camera angles (medium and wide angle).  All footage filmed in gorgeous 1080 HD.