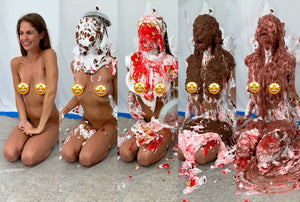 PieZone At Home "Suzanne"
It's an all-new PieZone At Home featuring the return of Suzanne!
Crazy thing—it just so happens that this gorgeous model forgot to get dressed before the shoot. Hope no one minds 😜 On to the game! Suzanne draws a deceptive two part question in this episode (the first part's a cinch, the second part...jussst a little bit harder 😹) which of course results in her messy downfall! Watch as Suzanne gets completely obliterated with ten of the veriest Very Cherry Pies™️, and finished off with an ultra chunky chocolate slopping (plus a second, recycled helping)! 
Total run time is 14 minutes. Includes two camera angles (medium and wide angle). All footage filmed in gorgeous 1080 HD.
➡️ Producer's Note: This is one remote shoot that ABSOLUTELY CANNOT BE MISSED! 🥇🥳 🙌