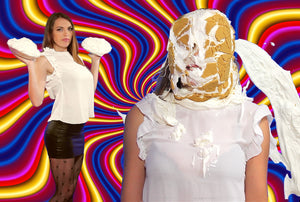 Euro Pies "Denisa"
It's the newest edition to our quilt of international messy women!
Meet Denisa, a stunning French model who joined us for a sloppy pie and slime session during her trip to NYC. Wearing a formal blouse, skirt and pantyhose, Denisa starts off with some easy Cool Whip pies to the face. But we didn't stop there and a barrage of 8 pudding filled cream pies really packed a sloppy wallop! Once the chunky green slime finishes her off, Denisa is left wondering if this was the smartest shoot to do right before catching a trans-Atlantic flight!
Total run time is 40 minutes. Includes wide angle footage. Filmed in gorgeous 1080 HD.