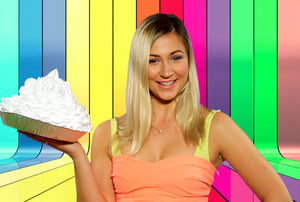 Things You Should Not Do On TV "Tracy"
Presenting an episode of Things You Should Not Do On TV, an obscure show from the Czech Republic where they always love a good slapstick comedy skit! Today it's Tracy's birthday but she didn't think all those pies would be for eating, did she? Watch this blonde beauty get clobbered with 16 giant, colorful pies all while speaking Czech (with English subtitles).
Total run time is 38 minutes. Includes one edited episode plus wide angle bonus footage. As always, filmed in gorgeous 1080 HD.