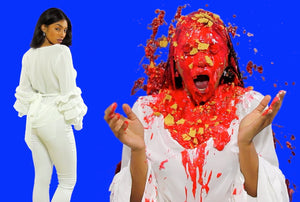 Try My Very Cherry Pie! "Gabi"
Gabi's back! Wearing an an all-white outfit, she plays a haughty socialite attending a local BBQ. But when she begins to deride the dish another lady brought- Very Cherry Pie- she discovers the messy consequences of her words! Watch Gabi take an assortment of cherry, chocolate and cream pies, topped off with a chunky, banana yellow slime. Her white blouse and jeans ruined, Gabi won't soon forget this day!
Total run time is 31 minutes. All footage filmed in gorgeous 1080 HD. Includes wide angle footage.