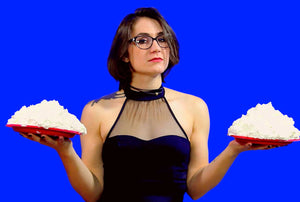 Now You Can't Pie Me! "Julianne"
See what happens when this icy, upscale girl agrees to a game of trivia, where a wrong answer results in some very messy consequences! Featuring new model, Julianne, getting five whipped cream pies to the face, topped off with two outrageously sloppy slimings. In the end, this aloof brunette is left griping and grumbling, her smart, perfect look ruined by pies and slime!    
Total run time is 37 minutes. All footage filmed in gorgeous 1080 HD. Wide angle clips are included.